Child Asthma Increases if Homes or Schools are Near High Traffic Areas
SOURCE: Environmental Health Perspectives, 118(7):1021-6, July, 2010
View online journal HERE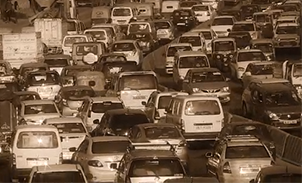 120 new cases of childhood asthma were reported during a follow-up of kindergarten and 1st Grade children who were asthma and wheezing-free at study entry into Southern California Children's Health Study. Researchers assessed traffic related pollution exposure based on traffic volume and distance from home and school. Asthma rates in chil dren increased by 50% for higher exposure from roadways near homes and by 45% when higher exposure occurred near schools. The scientists concluded by stating:
Traffic-related pollution exposure at school and homes may both contribute to the development of asthma.
McConnell R, Islam T, Shankardass K, Jerrett M, Lurmann F, Gilliland F, et al.
University of Southern California, Los Angeles, California
Autism 3x Higher for Children Living Near High Traffic Roadways
SOURCE: JAMA Psychiatry, 70(1): 71-77, January, 2013
View online journal HERE
Children living within 309 meters (1000 feet) of a "freeway" were shown to have a 3x greater risk of developing autism compared to children living beyond this distance. Scientists at the Department of Public Health Sciences at the University of California conducted the study along with several other agencies. A total of 279 children with autism were compared to 245 control children. Car exhaust contains many hazardous chemicals that move away from the highway toward surrounding homes and are found in highest concentration closer to the traffic areas.
Dept. of Preventive Medicine and Pediatrics
Keck School of Medicine
Children's Hospital, Los Angeles
University of Southen California
Attention Deficit Behaviors Higher for Children Exposed to Auto Exhaust
SOURCE: Environmental Health News, November 5, 2014
View online journal HERE
New York City pregnant mothers exposed to higher levels of car exhaust had children with
5 times greater risk of attention problems at age 9. Researchers at Columbia University measured the amount of a car exhaust chemical known as benzo[a]pyrene in 233 African-American and Dominican women in New York City. Children with the highest amounts of the chemical had a 5 times greater risk of of showing behaviors associated with inattention when compared to children whose mothers had the lowest levels.
Frederica Perera
Columbia Mailman Schol of Public Health
Columbia University

Automobile Exhaust Chemicals Lower Intelligence
SOURCE: Neurotoxicology Teratology, 49:74-80, May-June, 2015
View online journal HERE
276 minority urban children in New York City were followed through age 7 to determine if higher exposure to chemicals in typical car exhaust negatively affected intelligence. Mothers were measured for car exhaust exposure beginning just after conception and throughout pregnancy. Results showed children exposed to higher vehicle traffic were found to have significantly reduced IQ as measured on the Wechsler Intelligence Scale for Children. These results are of great concern as lower IQ is associated with decreased academic success and decreased future income. Car exhaust is a major source of the carcinogenic and neurotoxic chemicals polycyclic aromatic hydrocarbons (PAH).

Department of Enviornmental Health Sciences
Mailman School of Public Health
Columbia University, New York
Depression/Anxiety and Attention Problems Higher
in Children Exposed to Automobile Exhaust

SOURCE: Environmental Health Perspectives, Vol. 120(6), June, 2012
View online journal HERE

Children of nonsmoking African-American and Dominican women in New York City were followed from pregnancy to 6-7 years. During pregnancy, mothers wore personal air monitoring devices to measure exposure to automobile exhaust chemicals known as polycyclic aromatic hydrocarbons (PAH), including the chemical benzo[a]pyrene (BaP). Results showed that when pregnant mothers were exposed to levels above 2.27 ng/m3, there was a positive association between child symptoms of Anxious/Depressed and Attention Problems.

Dept. of Environmental Health Sciences,
Mailman School of Public Health
Columbia University, New York
Southwest Research Institute, San Antonio, Texas
Diabetes 30% Higher if Living Near Highway
SOURCE: Environmental Health, Vol. 14: 53, June 2015
View online journal HERE
People living closer than 330 feet (100m) from a major highway had significantly more cases of diabetes than people living more than 660 feet (200m). Researchers from a number of universities in Germany followed 3,607 individuals without diabetes in 2000-2003 for an average of 5.1 years and then compared rates of diabetes for the two groups. Those living less than 330 feet (100m) had 30% more cases of diabetes than those living more than 660 feet (200m) away.

Leibniz Research Institute for Env Med
Medical School, einrich Heine Univ.
Alzheimer's Increases Living Closer to Highway
SOURCE: Lancet, Jan. 4, 2017
View online journal HERE
The risk of developing Alzheimer's Disease increases the closer someone lives to a major highway. The study was conducted in Ontario, Canada and found that people living from 100-200 meters from a high traffic highway had a 2% increase risk of Alzheimers Disease. People living 50 to 100 meters had a 4% increased risk and those living less than 50 meters had a 7% increased risk of getting Alzheimers. If the families had lived there for a longer time the risk increased to 12%. Researchers also investigated increased risk for Parkinson's Disease and Multiple Sclerosis but only Alzheimer's rates increased from traffic exposure.
Arthritis Higher Closer You Live to Vehicle Traffic
SOURCE: Epidemiology, October 28, 2017
View online journal HERE
Nitrogen dioxide is a major gas emitted from car tailpipes during the engine/gasoline burning process. In this study from the Department of Occupational Safety and Health in Taiwan, it was found that people living closer to car traffic had higher rates of rheumatoid arthritis compared to people living farther away. The study included 322,301 subjects aged 30-50 years and were followed for 10 years from 2001 to 2010. Researchers found that people exposed to 10 parts per billion of nitrogen dioxide had a 54% higher rate of arthritis.
Chem-Tox Comment: Rhematoid Arthritis is an autoimmune disorder in which the body's immune system mistakenly attacks the joints. Normally, the thymus gland and various white blood cells work to remove autoimmune cells. The above study raises the question if the chemicals emitted from tail pipes in gasoline burning engine has the ability to damage these autoimmune protection systems.
Department of Occupation Safety and Health
College of Public Health
China Medical University
Taiwan

Arthritis Higher for Nurses Living 150 feet from Highway
SOURCE: Environmental Health Perspectives, 117(7), July, 2009
View online journal HERE
A total of 90,297 women from the Nurse's Health Study were investigated for arthritis and how close they lived to roads of different traffic levels. After taking into account such variables as smoking, age, race, body mass, physical activity and household income, it was found that nurses living less than 164 feet (50 meters) had a 31% increased risk of having arthritis. In non-smoking women, the increased risk for arthritis was 62%. There were no elevations in risk for women living more than 164 feet.
Brigham and Woman's Hospital
Harvard Medical School
Boston, Massachusetts